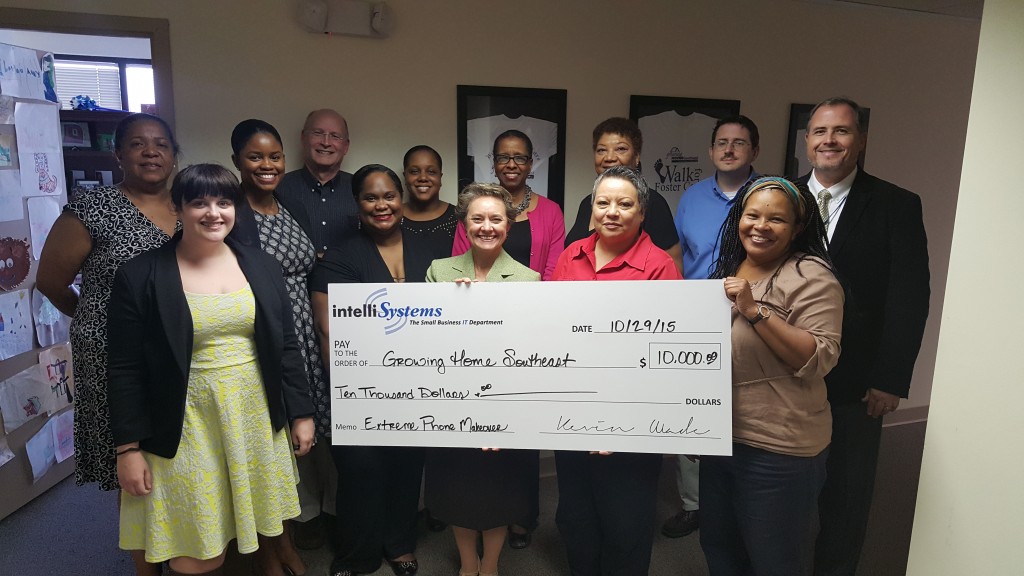 Congratulations to our 2015 Midlands Avaya Extreme Phone Makeover winner, Growing Home Southeast!
IntelliSystems CEO Kevin Wade today announced Growing Home Southeast as the winner of IntelliSystems EXTREME PHONE MAKEOVER Contest. Beginning August 18th and ending October 23rd, representatives from qualifying businesses in the Midlands could enter online for the chance to win an Avaya IP Office phone system, up to $10,000 retail value, for their business.
A select panel of judges including Kevin Wade, President and CEO of IntelliSystems, Theresa Garner of Avaya, Bert Dean of ClarionSouth Communications, Gary David of WVOC-AM 560 (iHeartMedia), Paige Hopewell of WLTX-TV 19 (CBS), and Cheryl Cooper of Midlands Biz, picked Growing Home Southeast's entry as the winner.
Entries were judged on three different criteria:(1) how well they captured the issues of the phone system; (2) the creativity of their entry; (3) and the impact that a new phone system would have on their business. "We are excited to name Growing Home Southeast as the winner of our Extreme Phone Makeover," said Kevin Wade, President and CEO of IntelliSystems. "Their entry showed us exactly how they would utilize the Avaya IP Office phone system through their multiple locations to connect both mobile workers and other offices together. What they do for foster children and families across the Southeast is wonderful, and this will only help their work be able to thrive."
Thank you to our sponsors, Midlands Biz and WLTX!
IntelliSystems has helped businesses in the Midlands choose the right telecommunications system for their specific needs since 1999 by helping them evaluate their alternatives and find a non-intimidating, easy to maintain phone system that saves them money over the long haul.
To learn more about support for your existing Avaya phone system or about a new phone system for your business, give us a call at our offices in Augusta 706-722-2024, Aiken 803-644-4331, or Columbia 803-563-6363 or email info@intellisystems.com.