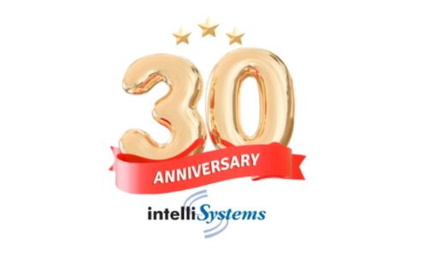 As IntelliSystems approaches its 30th anniversary on June 3rd, we take a moment to reflect on the extraordinary path that has brought us to this significant milestone. Founded by Kevin Wade in 1993, our journey began with an unwavering determination to bring innovative technology to local businesses while providing unparalleled client service. Little did we know that this vision would shape our identity and establish IntelliSystems as a trusted leader in managed IT, cybersecurity, structured cabling, and communications in Georgia and South Carolina.
In the early days, Kevin Wade, IntelliSystems CEO and President, was the embodiment of dedication and versatility. He shares, "When I started this company, I did a little bit of everything." From rolling out of bed in the morning to handle accounting tasks, repairing computers and printers, visiting customer offices to understand their needs, and returning at the end of the day with equipment to repair – Kevin did it all. He wore multiple hats from the start and dedicated himself to the success of IntelliSystems.
The journey continued, and IntelliSystems evolved with time. Recognizing the need for technical expertise beyond his own, Kevin made a strategic decision to bring on partners who possessed the specialized skills the company required. This move allowed IntelliSystems to reinvent itself multiple times over the years, adapting its business model to better serve clients and meet their evolving needs.
Through every stage of growth and transformation, IntelliSystems has remained committed to its "People First" philosophy. This philosophy, ingrained in the company's DNA, puts the best interests of clients and team members at the center of every business decision. It is this unwavering dedication to people that has enabled IntelliSystems to maintain an impressive rate of customer and employee retention. "I don't feel like you stand the test of time like this without being consistent and even handed, but also having great people that work here over the years," explains Kevin. "We have some employees that have been here for 23 years now, and some clients that have been with us even longer." This long-term trust is a testament to the value IntelliSystems places on building lasting relationships and continually evolving to meet the changing needs of its clients.
At the same time, consistency has also been key to IntelliSystems' success. "We've been consistent, and I believe that's powerful," explains Kevin. "Our customers want to be able to trust us. It's a pretty big commitment to hand over your IT management, IT support, cyber security, even your telecommunications, and I feel like we earn their trust with our longevity and our skilled employees."
Looking ahead to the future, IntelliSystems embraces the constant advancements in technology and the increasing importance of cybersecurity. As technology evolves, so do the risks associated with it. IntelliSystems is keenly aware of the need to protect businesses from cybersecurity threats and mitigate risks at both the system and user levels. We understand that it takes skilled engineers, who not only possess technical expertise but also prioritize understanding the needs of end-users, to build technology solutions that are both productive and secure.
As IntelliSystems celebrates its 30th anniversary, we express our deepest gratitude to our dedicated team members and loyal clients. Kevin's remarkable journey, dedication to wearing multiple hats, and unwavering belief in the power of people have shaped IntelliSystems into the success it is today. We are grateful for the opportunity to serve our clients, adapt to their changing needs, and put them at the forefront of everything we do.
Thank you for being a part of our story. Here's to another 30 years of innovation, growth, and putting people first!